Kehinde Wiley, Puma
2010

A fine art exhibition and apparel collaboration
from Kehinde Wiley & PUMA for World Cup 2010
Berlin – London – Paris – New York – Beijing – Tokyo – Milan – Johannesburg
World Cup 2010


To herald the World Cup and celebrate PUMA's long-standing partnership with African football, PUMA partnered with Kehinde Wiley, one of the world's most sought-after artists, and commissioned him to create four original works of art inspired by three of football's most decorated players. Wiley is best known for his highly naturalistic paintings of contemporary urban men adopting heroic poses directly referencing classical portraitureand for his distinctive use of elaborate, graphic and colorful wallpaper-like backgrounds.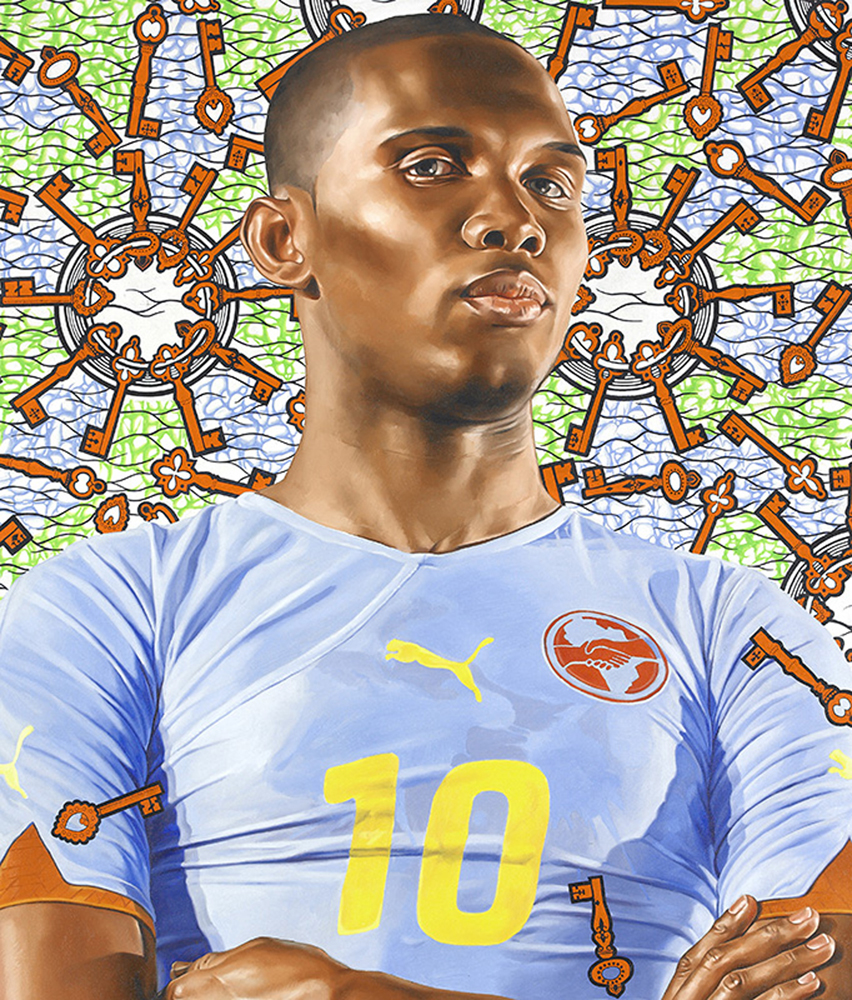 PUMA-sponsored football stars; Samuel Eto'o of Cameroon, John Mensah of Ghana and Emmanuel Eboué of Ivory Coast sat for Wiley as he painted three individual portraits of each player wearing their national team kits. A fourth 'Unity' Portrait was painted with all three players together, symbolizing the united countries of Africa. The players' pose was inspired by a pendant Wiley discovered while touring the Continent. In the 'Unity' Portrait, the players are wearing the PUMA Unity Kit, a limited edition uniform designed to be a kit shared by all African teams, symbolizing unity. The brown pigment in the kit is a customized pantone PUMA created by mixing actual soil samples from four different African nations—Ghana, Cameroon, Cote D'Ivoire and Mozambique. The brown to blue color gradient represents the soil to the sky progression. In each portrait, Wiley captures the essence of each player using the rich heritage, customs and people of Africa as inspiration.

The individual portraits, measuring 5 feet by 6 feet and the 'Unity' portrait measuring 9 feet by 12 feet, was unveiled in Berlin and traveled as an exhibition to Paris, London, New York, Beijing, Tokyo and Milan, ending in South Africa for the World Cup.

Kehinde Wiley lent some of his unforgettable patterns to the PUMA Africa lifestyle collection of apparel, footwear and accessories. In so doing, PUMA expanded its reach beyond the pitch by creating African-inspired lifestyle products and supporting the kind of artwork that is relevant to a younger, engaged generation.