Concept NV is a curatorial agency founded by Nicola Vassell.
---
Mission

We create dynamic concepts that tell stories of life through art. Our singular vision connects the traditional and experimental art worlds with the wider cultural sphere. We offer unique synergies between stakeholders to generate maximum cultural impact. We help our collaborators navigate the complex global art community, transforming knowledge and access into ideas and opportunities.


Curatorial Projects & Exhibition Management


Concept NV provides curatorial and exhibition management expertise, specializing in art projects focused on cultural phenomena.
Art Advisory Services

We offer strategic counsel on the development of art collections.

Private Sales

We facilitate private sales by brokering purchase and sales opportunities with discretion.

Collections Management

We administer long-term logistical support of collections through database/archival management, transportation, storage, insurance and loan facilitation.

Other Collaboration
We offer collaborative opportunities with and insights into the art ecosystem.
Gordon Parks:
Selections from the Dean Collection
Curated by Nicola Vassell
Cooper Gallery, Harvard University
February 13 – April 13, 2019

A career-spanning exhibition of Gordon Parks photographs from the Dean Collection on view at The Ethelbert Cooper Gallery of African and African American Art at the Hutchins Center, Harvard University. Gordon Parks: Selections from the Dean Collection presents a selection of works from the collection of Kasseem Dean and Alicia Keys, who hold the largest private collection of works by Gordon Parks. Recognized as the most important African-American photographer of the 20th century, Parks represented his subjects from the rural poor and black families living under segregation to fashion models and prominent cultural and political figures with empathy and dignity, employing the arts to champion social change.



Sotheby's Contemporary Curated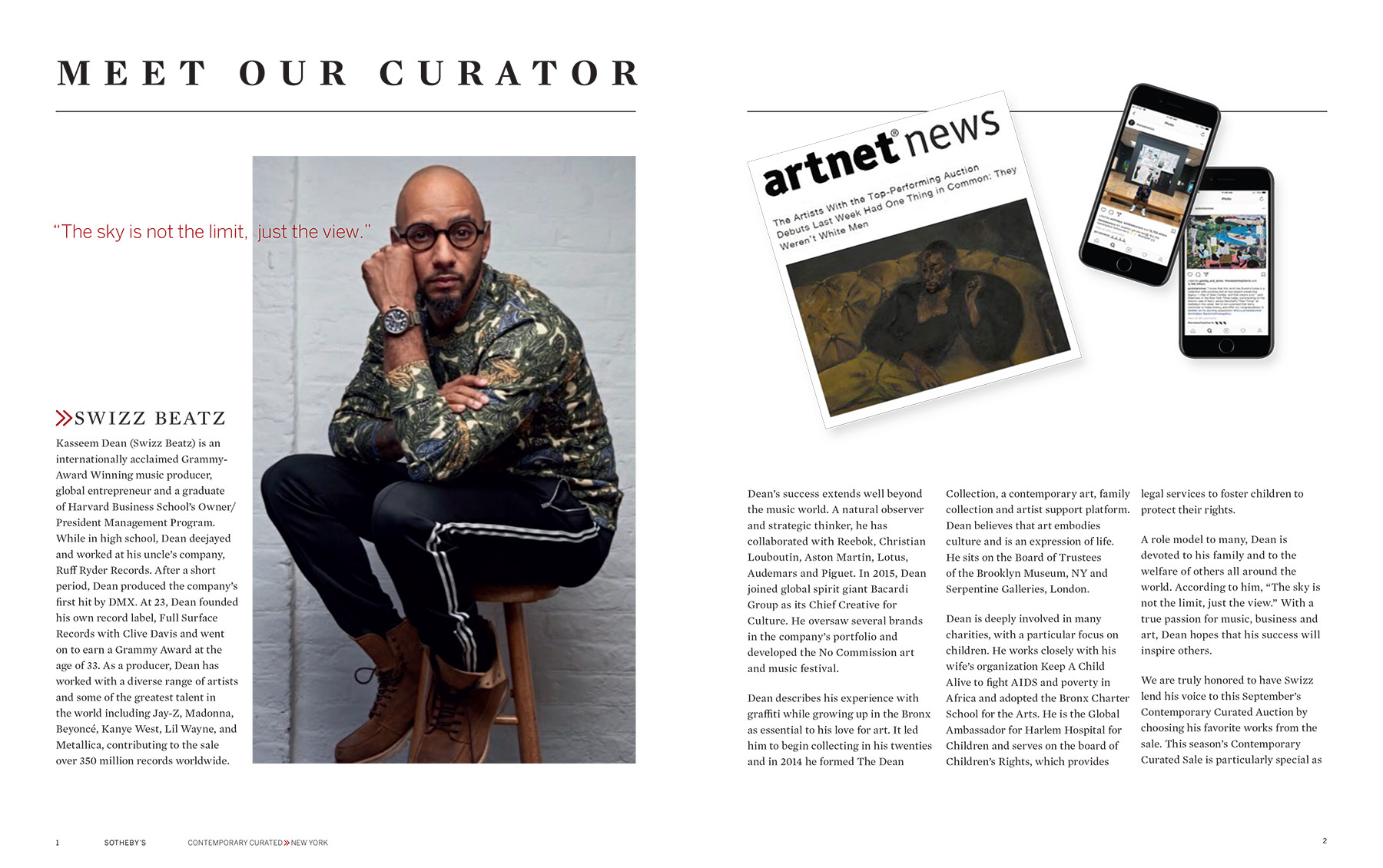 September 25th, 2018
New York, NY

Grammy-Award winning music producer and global entrepreneur, Kasseem Dean aka Swizz Beatz is famed for his music industry hits, but he is also an avid contemporary art collector. For Fall 2018, Swizz Beatz and the Dean Collection have lent their exce

Optional creative vision and passion for collecting art to select favorite works from the Sotheby's Contemporary Curated auction. Their choices are an intriguing mix of established and emerging artists, prominently featuring works by African American and Latin American artists, with names from Kerry James Marshall and Richard Serra to Faith Ringgold and Shara Hughes
.
Website